Dentistry for Children – Dental Cavities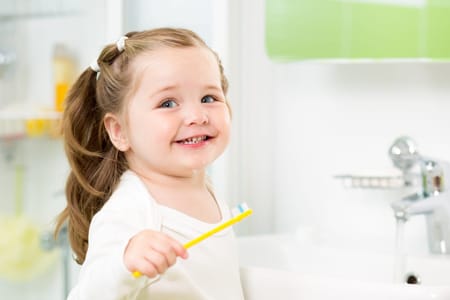 Tooth decay breaks down the tooth enamel and can result in cavities. Cavities are holes in the teeth. When not treated, they can make chewing and speaking difficult.
What is a Cavity?
Tooth decay can be caused by bacteria. When sugar and starch linger on the teeth, they combine with bacteria to form acids that attack the tooth enamel, which then causes cavities.
All children are at risk for tooth decay as they all have bacteria in the mouth. However, some factors can make a child more vulnerable to cavities such as poor oral hygiene, dry mouth, and excessive intake of sugary and starchy food.
A cavity usually starts as a light brown color on the tooth. When the cavity becomes deeper, it turns to brown or black. Cavity symptoms may vary from one child to another and sometimes, there are no symptoms showing.
If your child complains of pain in their teeth and increased sensitivity to hot and cold, let your dentist know. Your family dentist in South Calgary will be able to examine your child's teeth for cavities.
Tooth Decay Treatments for Kids
Tooth decay treatment will depend on the severity of the case as well as your child's age and overall health. Usually, the decay is removed and the area is filled. Fillings are restorations applied to the teeth to repair the damage. They can be direct or indirect.
For direct fillings, the filling is placed directly into the cavity. They are often color-matched to the tooth.
Indirect fillings, on the other hand, include other dental restorations, such as veneers and crown, and may take at least 2 dental visits to complete.
Fillings can also be used to fix misshapen and chipped teeth. While it is crucial to preserve baby teeth, there may be instances when they need to be pulled out. This can be due to advanced tooth decay, gum issues, and extreme pain.
When this happens, your dentist will fill the gap to keep the surrounding teeth from moving.
If you're concerned about your kid's response during dental procedures, you may discuss the use of sedation with your dentist. Your dentist will determine whether this is necessary and if it is, will also work with you in developing a treatment plan.
Our primary focus is on providing your child with quality dental care and ensuring their comfort. If we need to schedule multiple appointments for your child as it's difficult for them to sit still for a long period, we'll do so.
Help Your Children Prevent Cavities
You can help your children remain cavity-free with these tips:
If your child is still using a bottle for feeding, use it only for milk or water. Avoid putting juice or other sugary drinks in it, and don't let your child sleep with the bottle in their mouth
Brush your child's teeth as soon as they appear. Include their tongue and gums when cleaning their mouth.
Include fruits and vegetables in your child's diet. Limit food that is high in sugar and starch such as cookies, cake, and chips.
Let your children use their own utensils to avoid transferring bacteria to their mouths.
Talk to your child's dentist about a fluoride supplement or dental sealants. Sealants help keep bacteria out of the tooth surfaces, hence helping prevent cavities.
Take your child to the dentist for routine exams and hygiene cleanings.
Plaque can build up fast so it's important to clean the mouth thoroughly, especially before bedtime. While your child receives professional dental cleaning, oral hygiene habits at home are equally important in keeping cavities at bay.
Cavities are preventable. Contact our team at Chinook Village Dental on how you can protect your family's oral health.

Serving the communities of Kingsland, Fairview, Kelvin Grove, Meadowlark Park, Mayfair, Bel-air, Winsor Park, Manchester Industrial, Eagle Ridge, Chinook Park, and surrounding areas.
HOURS
Monday9:00am - 8:00pmTuesday10:00am - 6:00pmWednesday12:00pm - 8:00pmThursday8:00am - 8:00pmFriday8:00am - 3:00pmSaturday9:00am - 5:00pmSunday9:00am - 5:00pm
Copyright 2023 Chinook Village Dental and Dental Growth Strategies | All Rights Reserved | Powered by DGS
This website uses cookies.