Kids who participate in athletic activities enjoy a sense of fun and achievement. However, along with the benefits of being active in sports also comes the possibility of injury.
This doesn't mean that your child should stop playing sports. It helps, though, to become aware of the risks involved and take precautionary measures to protect them.
According to statistics, 35% of injuries in Canada occurred during some type of sports activity. And 66% of injuries among kids ages 12 to 19 were sports-related.
Sports-related injuries can cause trauma, missed school and work, and significant healthcare costs. But there's one simple way to reduce the tendencies of your child getting a dental injury. With the help of a custom mouth guard, you can help protect your child's teeth.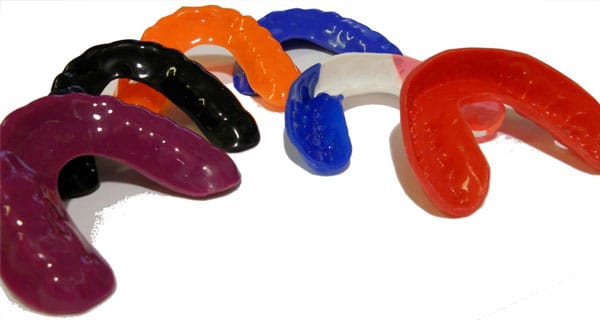 Choosing the Right Mouth Guard
Custom mouth guards can be used not only in contact sports such as football, basketball, and baseball.
They can also be used for other activities such as cycling and gymnastics.
The right mouthguard for your child will depend on the type of sport they're playing. Mouthguards can be classified into three types:
Stock mouth guards. They can be purchased at groceries, sporting goods stores, and pharmacies. They come in various sizes and qualities. Stock mouthguards are the cheapest type of mouthguard as they also offer the least protection. You need to clench them in your mouth to keep them in place and they can be uncomfortable when worn. Apart from that, they can also cause breathing and speech difficulties.
Boil and bite mouth guards. A boil and bite mouthguard has to be immersed in hot water and worn to fit into the mouth. While it fits better than a stock mouthguard, it can still be uncomfortable. Often, it also fails to cover the entire teeth.
Custom mouth guards. At Chinook Village Dental, we can make a custom mouthguard for your child. We start by taking impressions of your child's teeth, which we forward to the dental laboratory. Once the device is ready, we'll see how it fits into your child's mouth. We'll ensure their comfort to also encourage them to use the device regularly.
Your child's mouth is unique, that's why they need a mouthguard that is custom-fitted for them.
Benefits of Using Custom Sports Mouth Guard
A sports mouth guard serves as the protective layer of the teeth, keeping them intact even after an impact or blow to the face. Your child's teeth are protected with their custom mouth guard on.
Feels comfortable when worn
Prevents tooth fractures
Keeps opposite teeth from getting in contact with each other
Prevents cuts and bruises
Protects the lower jaw against fractures
Helps reduce brain injury
Can be used as a form of protection against neck injuries
Talk to one of our dentists today about a custom mouth guard for your child. Visit our dental office located in South Calgary or call . Let your child focus on their game and keep yourself from worrying.