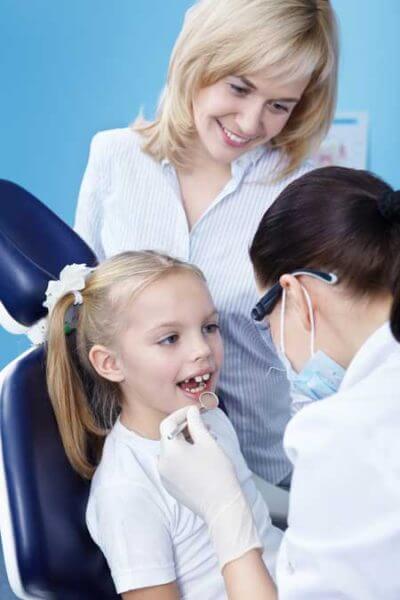 Chinook Village Dental isn't a specialty clinic but we're parents ourselves and we love working with kids. Our General Dentists and the rest of our dental team is dedicated to your family's special needs.
We're grateful for the trust that parents give us in caring for their children's oral health.
Why Bring Your Child to the Dentist
Starting dental care at an early age is essential in developing strong and healthy teeth. It also helps children adopt good oral hygiene habits for a lifetime. As a family, this also helps lower dental costs.
Improper brushing habits and poor diet can make a child more vulnerable to tooth decay. If the primary teeth develop cavities, chances are high that the permanent teeth will also develop them.
We recommend bringing your child for their first dental visit around the age of three. Schedule your first consultation today with a dentist in South Calgary.
When children get used to seeing a dentist regularly, they'll also learn to develop proper oral hygiene habits and reduce instances of dental issues. Bringing your child at an early age may also help them prevent dental fears and anxiety.
It's never too late to take your child to the dental office for their first visit. Our goal is to get them in before any issue arises.
Pediatric Dentist in South Calgary
Dentistry for children is for infants up to teens. We examine and treat children, provide them early dental care services, and also work with parents in developing a home care routine.
We also fix issues such as premature loss of a baby tooth and teeth alignment problems due to habits, such as thumb sucking. When children lose teeth, this can also affect the development of adult teeth even if they have not erupted yet.
We can provide children with space maintainers to keep surrounding teeth from shifting and also encourage natural alignment.
If you're a first-time parent and are worried about your child's oral health, we can see your baby and help you look after their mouth. While babies don't require much dental care, knowing how to properly care for their teeth helps ensure a healthy smile as they turn into adults.
Benefits of Dentistry for Children
If your child's teeth are healthy, chances are also high they'll also develop healthy permanent teeth.
Here are some of the benefits of investing in dental care for kids:
Establishing good oral hygiene habits. While the primary teeth will eventually fall off, it's still important for children to establish good oral hygiene havits. If children know how to care for their teeth early on, they'll be more inclined to continue with the habits until they become adults.
Preventing oral health issues. Cavities are common in children and pose risks not only on oral health but on overall health as well. The germs can reach the bloodstream through mouth sores. With regular dental care, your child's mouth is protected against potential dental issues.
Reducing discomfort. Tooth decay and cavities can be extremely painful. These dental issues can cause children to miss school and keep them from enjoying routine activities, such as playing. With proper brushing, flossing, and checkups at the dental office, you can reduce the tendencies of your children getting cavities.
Saving money. We emphasize the importance of preventative dentistry as it helps families maintain healthy smiles and also reduces dental costs. Regular brushing and other oral hygiene habits are easier and far less costly than complex dental treatments.
Making First Visits a Positive Experience
At Chinook Village Dental, we strive to make a positive first impression on a child's first visit to our office. The first meeting can leave a lasting memory and tell whether young patients will be happy to be back again.
We do our best to make each visit fun and relaxed for kids. They even get to ride the dental chair! Once we have gained their trust, we gently move to examine their mouth.
By starting relationships with children early on, we get to monitor their oral health and detect potential issues right away. In the long run, this can mean that all they will ever need is routine cleaning.
Ready to take your child to a South Calgary pediatric dentist? Call us today at .