Get Tested Today: Oral Cancer Screenings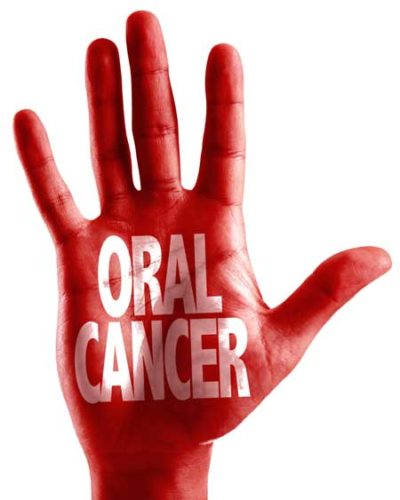 It was estimated that in 2019, 5,300 Canadians will be diagnosed with oral cancer and 1,450 will die from it (Learn more at cancer.ca).
It's frightening to hear your dentist talk about oral cancer screening but it is extremely beneficial. It is an essential component of your comprehensive dental exam, and the goal is to detect early symptoms of oral cancer.
What is Oral Cancer?
Oral cancer can affect any part of the mouth, which includes the lips, the floor of the mouth, and cheeks among others. Oral cancer symptoms can be hard to notice and this stresses the importance of early screening.
The most common type of oral cancer usually starts in the lip and mouth tissues. The treatment has higher success rates at the early stages of oral cancer.
Any irregularities in the mouth should be examined by a dental health professional as soon as possible. During an oral cancer screening, your dentist or hygienist will analyze your mouth for any changes in tissue samples.
What Do Dentists Look For During an Oral Cancer Exam
Your dentist or hygienist will look for the following during an oral cancer exam:
Red patches and sores. They can appear on the sides of the tongue and the floor of the mouth. The patches can also be white or pink.
Lumps. Lumps anywhere in the throat or mouth can be a sign of cancerous tissue.
Leukoplakia. Characterized by hardened, slightly raised lesions, leukoplakia can occur anywhere inside the mouth.
If not treated right away, leukoplakia can be cancerous.
Your dentist will examine your face, glands, neck for bumps. Lasers can also be used to find lesions or abnormalities that are not visible to the naked eye.
If lumps, lesions, and other abnormalities are present, your dentist will recommend a diagnostic and treatment plan.
If the treatment plan is not enough, your dentist will recommend a biopsy to further examine tissue and identify the extent of the lesion.
If the cancer is found to be malignant, it can spread to other areas in the mouth and the body.
By understanding the type of cancer and how it spreads, your health care providers will be able to develop your treatment plan accordingly.
Treatments at this stage will vary but may include chemotherapy and radiation therapy.
Your dentist can check for lesions or changes in the mouth during your routine check-ups,
but it's still important to invest in an oral cancer screening at least annually.
Oral Cancer Risk Factors
Men and those aged 45 and above are more likely to develop oral cancer, but several risk factors are also modifiable, such as:
Smoking
Poor diet
Excessive exposure to the sun
Excessive alcohol consumption
Avoid the habits listed above to lower your chances of getting oral cancer. A diet rich in fruits and vegetables will also be beneficial not only for your oral health but your general health as well. Regular dental visits will also help keep your mouth in good condition.
Get Your Oral Cancer Screening Today in South Calgary
You can be in control of your oral health. Get tested for oral cancer today in our dental office at South Calgary. If you're already due for your routine checkup and cleaning, please contact our team at (587) 328-1298. Let's get you in as immediately as possible.

Serving the communities of Kingsland, Fairview, Kelvin Grove, Meadowlark Park, Mayfair, Bel-air, Winsor Park, Manchester Industrial, Eagle Ridge, Chinook Park, and surrounding areas.
HOURS
Monday9:00am - 8:00pmTuesday10:00am - 6:00pmWednesday12:00pm - 8:00pmThursday8:00am - 8:00pmFriday8:00am - 3:00pmSaturday9:00am - 5:00pmSunday9:00am - 5:00pm
Copyright 2023 Chinook Village Dental and Dental Growth Strategies | All Rights Reserved | Powered by DGS
This website uses cookies.